COVID-19 Insights Report Update – March 27, 2020
By: Wesley Legg, Jack Houtz, and Scott David
United States COVID-19 Daily Cases Still Climbing
U.S. daily cases continue to climb as we expected. As stated in our March 25th report, we hope to see daily cases peak and flatten sometime next week (between March 30th and April 6th). U.S. daily test results are giving us an idea of the reproduction rate in the country, but not a clear picture. Due to a testing backlog, the daily cases reported are likely positive results from multiple days of specimen collection. Reporting both the positive test result and the day of specimen collection would allow us to calculate a more reliable reproduction rate. Until labs work through the testing backlog the growth rate is likely overstated.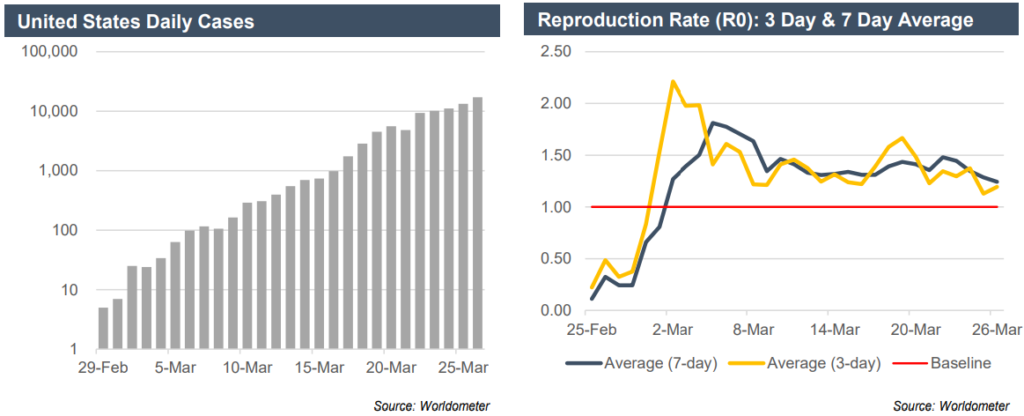 The COVID Tracking Project
The COVID Tracking Project is collecting the most comprehensive testing data we've found. They are collecting information from all 50 U.S. States, the District of Columbia, and 5 other U.S. territories; reporting the number of tests completed, backlog, positive results, and negative results. U.S. labs have processed over 500,000 specimens, and the daily processing volume continues to grow while the government and commercial labs work to match testing supply with testing demand. Testing volume increased an average of 20% the last four days, daily cases increased an average of 17%. For now, testing growth means daily case growth. We will not get a clear picture of COVID-19 growth until the testing supply meets testing demand.