Industrial Newsletter: November 2022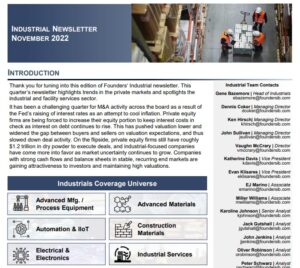 In this edition of Founders' Industrial Newsletter, we highlight trends in the private markets and spotlights the industrial and facility services sector. This quarter's newsletter also delves into the challenges for M&A activity as a result of raised interest rates. We also touch on recent trends in the industry, including:
Outsourced Services
Workforce Integrated into Customer Facilities
Ability to Attract Specialized Workers
Transparent Fee Structures
High-Touch Service
If you or anyone you know has questions about the market around Industrials, please feel free to reach out to Gene Bazemore, Head of Industrials, for more information.