Founders Advises Zigatta in its Acquisition by Improving Enterprises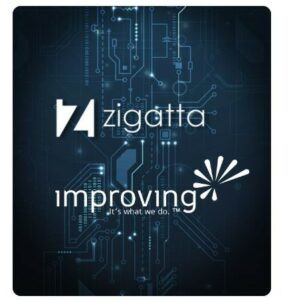 BIRMINGHAM, AL (January 26, 2023) – Founders is pleased to announce that Zigatta, LLC (Zigatta) has been acquired by Improving Enterprises (Improving), a modern digital services company. Improving is a portfolio company of Trinity Hunt Partners and is led by CEO Curtis Hite.
Zigatta is an industry leading niche staffing, consulting, and solutions firm specializing in placing software engineers and other high-level information technology (IT) professionals into large and mid-sized blue-chip US businesses nationwide. The company is headquartered in Frisco, Texas with additional nearshore offices located in Guadalajara, Mexico. The acquisition of Zigatta provides Improving with substantial scaling opportunities and access to a proven talented team within the IT services sector. Zigatta will be able to leverage Improving's broad-level capabilities and resources to further expand its professional services and further provide its clients with best-in-class solutions.
"Selling a company is a complex process, but the team at Founders exemplified a deep level of expertise, patience and guidance that eased the entire process," stated Nahid Giga, Founder & CEO of Zigatta. "Founders understood what we were looking for in a partner and what our definition of a successful exit represented – taking the time to truly understand what this meant, solidified our relationship, partnership and ultimately a great outcome for our all stakeholders."
Neal England, Managing Director at Founders said, "It was very exciting to see two well-aligned companies in culture, services, and people come together under a common vision."
Zane Tarence, Head of the Technology and Business Services Group at Founders added, "We are thrilled to witness these types of exceptional client outcomes as our teams work hard serving such fine companies like Zigatta. Our vision is to become a gold standard transaction advisory firm when delivering service experiences like these to our valued clients."
About Improving
Improving is a technology consulting, custom software solutions, and training organization, partnered with private equity firm Trinity Hunt Partners. The company has an international presence with 16 offices across the United States, Canada, and nearshore development offices in Mexico. To learn more about Improving, visit http://improving.com/
About Zigatta
Zigatta is an international technology solutions company with offices in the U.S., and Mexico, specializing in cloud, data, and marketing technology. Since their founding in 2015, Zigatta has rapidly grown their presence in Latin America with two acquisitions in the city of Guadalajara, Mexico. To learn more about Zigatta, visit https://zigatta.com/
About Founders
Founders is a merger, acquisition, & strategic advisory firm serving middle-market companies. Founders focuses on helping companies across technology, business services, consumer, energy, industrial, and healthcare industries. Founders' skilled professionals, proven expertise, and process-based solutions help companies access growth capital, make acquisitions, and/or prepare for and execute liquidity events to achieve specific financial goals. In order to provide securities-related services discussed herein, certain principals of Founders Advisors, LLC are licensed with Founders M&A Advisory, LLC, member FINRA and SIPC. Founders M&A Advisory, LLC is a wholly-owned subsidiary of Founders Advisors, LLC. Founders Advisors, LLC does not provide investment advice. For more information, please visit www.foundersib.com.