Human Capital Management: M&A Overview & Outlook – Q2 2021
Neal England, Brad Johnson, Katherine Davis, William Short
2021 M&A Overview & Outlook
Global M&A activity realized strong recovery in the first half of 2021 with deal count and value and is maintaining a steady pace to approach or surpass record highs.
More than 17,000 deals closed, topping $2 trillion in combined value.
US transaction activity shifted into overdrive post-COVID and is on track to dramatically exceed 2020.
Continued stock market health equipped public companies with ample equity buying power and provided liquidity for the burgeoning crop of companies entering public markets via IPO and SPAC reverse merger.
A looming 2022 capital gain tax increase combined with pandemic anxiety is motivating stakeholders to fast track a sale or recapitalization plans.
A seller's market persists and is being driven primarily by wide-spread vaccinations, abundance of capital, strong stock market performance, and attractive leverage options for buyers. SPACs have raised eye-popping capital YTD and are competing heavily with corporate buyers and PEs for acquisition targets, a catalyst of buyer competition further benefiting sellers.
The macroeconomic whiplash of pandemic-induced supply chain reductions followed by a quicker than expected return of demand has created an imbalance in recovery for some sectors. Additionally, labor shortages exacerbated by government stimulus are beginning to wind down as stimulus ends, resulting in increasing numbers of employees coming off the sidelines and returning to the workforce.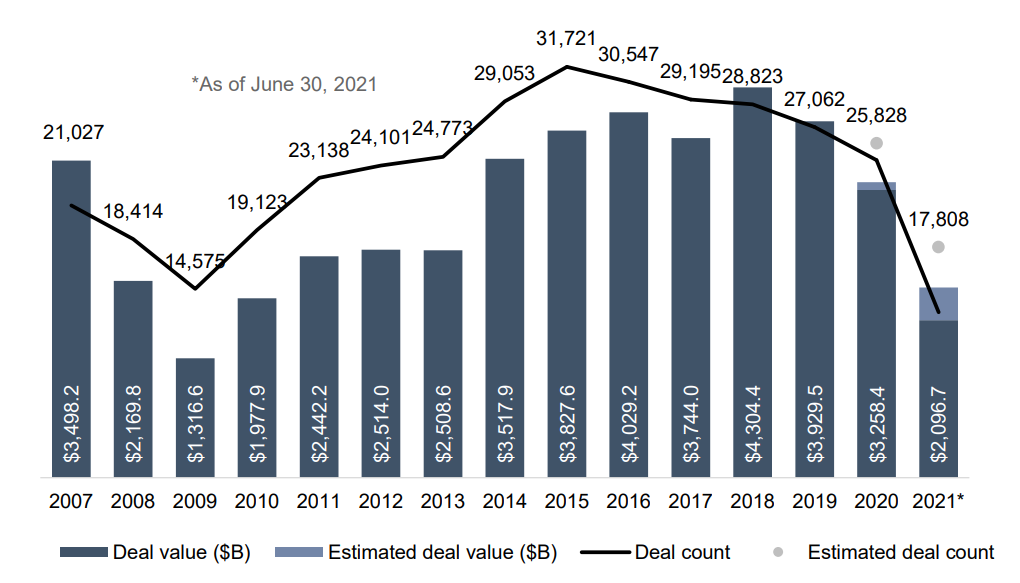 2H 2021 Key Drivers
An enduring booming PE ecosystem driven by low interest rates, enormous capital overhang, economic growth combined with motivated sellers.
Continued improvement of remote work environment structures that can foster organizational culture development and employee engagement, among other benefits, will be a positive impact for employees and employers.
Passage of an infrastructure investment bill could add millions of new jobs over the next several years providing a substantial and needed economic boost in the wake of the pandemic.
Consumer confidence remaining consistent and near its highest level since February 2020.